This is it, the big recruitment period is here!
This is the most important time of the year for agents: you have to be in contact with as many people as possible to get as many opportunities as possible for players!
Except that often the operational side slows down the process: updating CVs…, making lists…, sending profiles by email, messenger, WhatsApp, SMS… And regularly updating this information with the clubs! 
You are curious? Contact us for a presentation!  Sportiw offers tools specially created for agents to save you time.
Here are 2 new features to save your time:
We know that many agents segment their list so they don't send a complete list every time.
It can be a list by levels, by nationalities, by salary range, etc…
On Sportiw, it is now possible to create and manage these personalized lists and to share them with the contacts you want !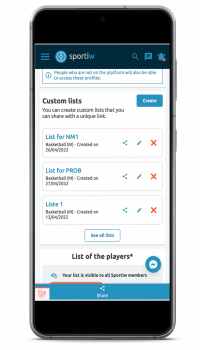 Thus, the recruiter can at any time click on this link and have the list updated with the possibility of sorting the players by criteria within the selection.
Discover the feature in video!
2/ Share a selection of profiles
When recruiters contact agents with a specific search, agents will typically send a selection of profiles that match the search. This usually takes time to select the profiles, format them into a message, etc.
Thanks to Sportiw, you can now choose the profiles to share and in one click 'copy and paste' the selection in any messaging tool: email, SMS, WhatsApp, Viber, Messenger, etc…
Discover the feature in video!