The Euroleague Basketball Adidas Next Generation Tournament is set to take place in Kaunas (Lithuania) from May 18 to 21. This tournament hosts the best European U18 teams!  Let's discover all the details and the program…
What's the Adidas Next Gen Tournament?
Organized by the Euroleague and sponsored by Adidas, the Adidas Next Generation Tournament is a U18 basketball tournament. It brings together the top basketball clubs from Europe and it takes place the same weekend as the Euroleague Final 4 for professional teams!
Which teams will be participating?
8 teams will take part in the Adidas Next Generation Tournament Finals. 4 teams have booked their place in the tournament by winning one of the four qualifying events: Real Madrid, Joventut Badalona, FC Barcelona and Mega MIS Belgrade.
3 of the remaining tickets have been granted to teams by wild cards: Zalgiris Kaunas, Panathinaikos, and Crvena Zvezda. The final place has been awarded to the "Next Generation Select Team", which is composed of players who participated in the qualifying events.
Let's discover now the composition of the 2 groups…
Real Madrid 🇪🇸
Barcelona 🇪🇸
Crevna Zvezda 🇷🇸
Panathinaikos 🇬🇷
Joventut 🇪🇸
Mega MIS 🇷🇸
Zalgiris Kaunas 🇱🇹
Next Gen Selected Team 🌍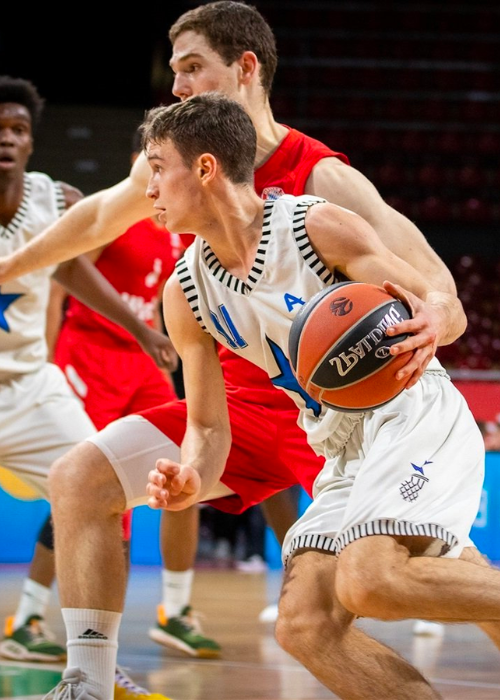 If you want to know the program of each match in each group, click here.
Who will win this highly desired trophy for the U18 teams? Answer on May 21 in Kaunas!
Infos on tickets & broadcasting
It is of course already possible to buy tickets for the tournament now. The price is 8€ per day for the group stage matches. If you want to buy your tickets, click here. And if you can't come to Kaunas to attend the games, don't worry! All matches will be broadcasted on Skweek!