As part of the collaboration between Sportiw and the adidas Breaking Barriers Project, we had the privilege of speaking with Camille, one of the winners of the first edition of our contest, which was an initiative to highlight women's sports. In this interview, Camille shared her inspiring journey, her thoughts on women's basketball, and her experience with the adidas Breaking Barriers Project.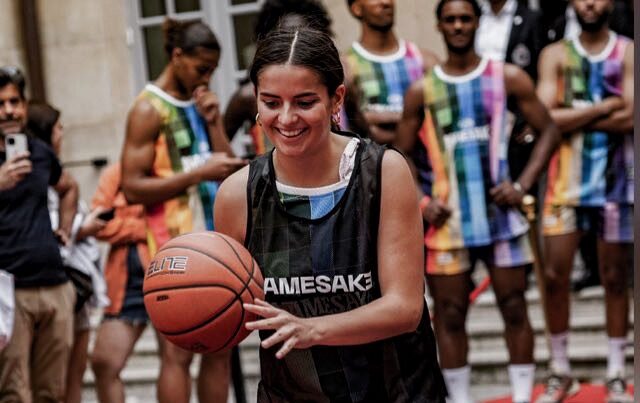 Can you tell us about your beginnings in basketball...
My beginnings in basketball were a little atypical. I started playing at the age of 17, which may seem late, especially because I was initially involved in other athletics. But I was thirsty for change, and basketball completely captivated me. My first basketball coach is for me much more than just a coach — he is like a member of my family. He taught me everything and supported me in the ups and downs. He was present in every success and every moment of doubt.
Speaking of success, what are you most proud of?
My biggest achievement was to climb the ladder to evolve in National 2 after only 3 years of intensive basketball practice. It was a huge challenge and I felt incredibly proud to have taken it on.
How do you manage the balance between your personal life and basketball?
Combining the requirements of high-level basketball and studies has not always been easy. However, I believe that it is a balance that can be found with determination and organization.
What is your opinion on the current state of women's basketball and the progress observed over the years?
I am impressed by the growth of women's basketball in recent years. Initiatives like "I can play" have really propelled women's game. The women's teams, both in 5×5 and 3×3, are incredible. We must continue to encourage young players to believe in their dreams. As a player, especially in street basketball, you often must redouble your efforts to prove your place. Despite this, it shows that we have just as much right to play and excel in an environment predominantly made up of men.
Did you have an experience where you felt gender inequality?
I have experienced several situations where men underestimated me before I even played, just because of my gender. But, in the end, my friends and I showed them what we were capable of. It was rather fun, I must admit.
What advice would you give to young women aspiring to play basketball?
I will tell them never to be discouraged by sexist comments or attitudes, and that they have the level and talent to succeed. Young women players are the ambitious and strong women of tomorrow! Believe in your goals and respond on the ground! 😉
What do you think of the adidas Breaking Barriers Project?
In my opinion, involving leaders, coaches, and other influential people in such projects is crucial. This concretizes equality by setting an example for players. The Project allowed me to discover initiatives that highlight women in sports, including me. This had a positive effect on my sports development. As a woman, seeing that our place in sports is gaining importance really touches me. This shows that things are moving in the right direction.
What would you say to the players who hesitate to participate in the second edition?
I would tell them to get started without hesitation. Participating can bring them a lot on the sporting level, and much more.
👉 If you want to participate in our Sportiw x adidas Breaking Barriers contest, click here!
To every girl and woman, let your dreams be great, because you are the examples for future generations. You are sources of inspiration, and in you lies a seed of talent that is just waiting to bloom!