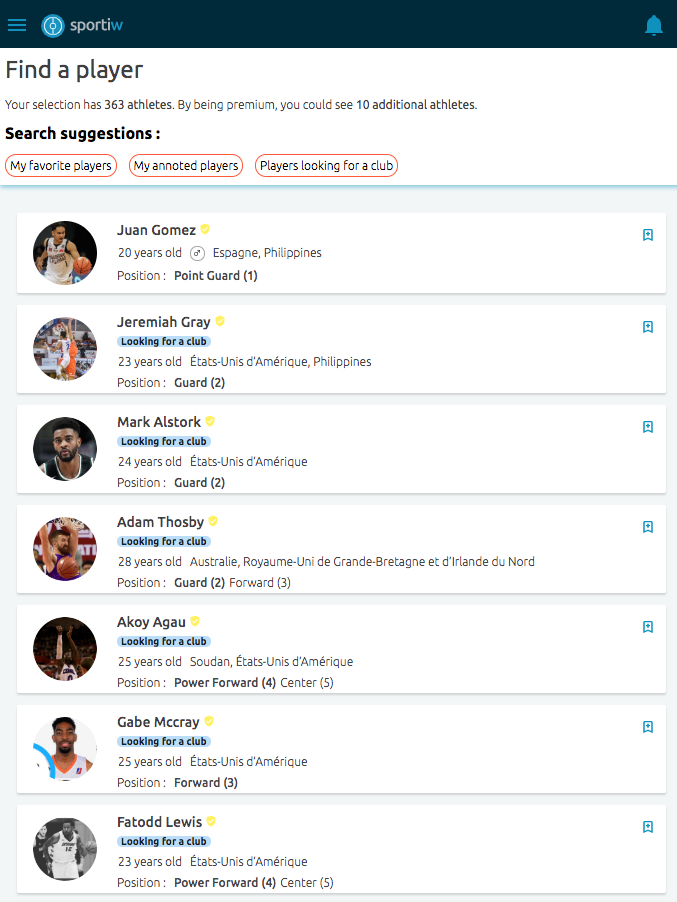 Who are the players on Sportiw?
All the players are not professionals players or rookies. Some have agents, some don't, but we have invited players with a good basketball level.
How to find the player adapted to your level?
Our professional scouts are working to give a level appreciation for all the players on the platform. So, you can search the players corresponding to your level and don't waist time ! (see the other filters of search at the end of this post)
This option will be fully available soon.
REMINDER : All browsing is private : no one can see which page you are visiting or who you are looking for on Sportiw.
ONE BiG ADVANTAGE : AVAILABLE PLAYER FUNCTION
We know it's hard to find out who is available during the season. That's why all players (or agents) declare on Sportiw if they are looking for a club, at the moment.
You can filter them by this criteria to save time !
The info is updated at least every 2 weeks.
Some of the profiles :









On Sportiw, you can search players by the following criteria (you can combine them):
– Available Players
– Name
– Position
– Nationalities
– Favorite profiles
– Age
– Height
– Salary asked
– Verified profiles (Sportiw verify the identity of the users)
– Agents
– Level estimated (by Sportiw)
– My Notes (you can evaluate players and search by your grade)

… And More to come !