You have created an account on Sportiw, congrats!
Now, it is important to complete your profile in order to be spotted by coaches and clubs.
We have broken down each block of the profile for you and we will explain how to complete them properly!

You can also check out the 'Sample Player' profile for inspiration: https://sportiw.com/en/athletes/Exemple.Joueur/1263
PICTURE :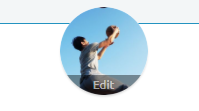 Click on the "Edit" button and then choose your photo on your device.
Choose a "sporty" image: in a game situation, in a jersey, etc.
The editor allows you to crop the image.
SUMMARY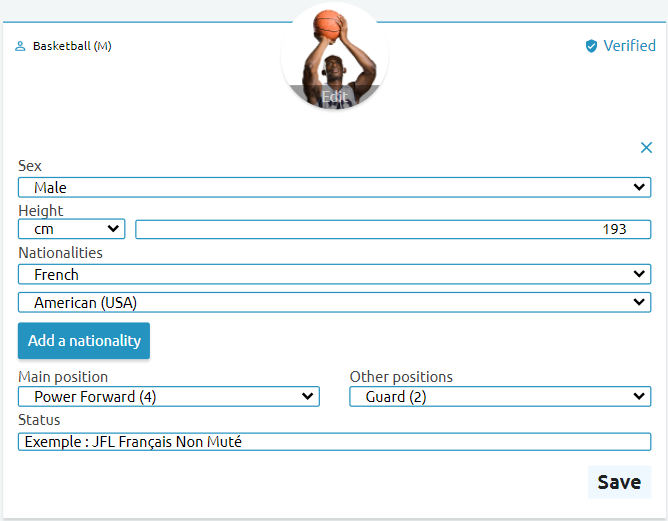 This section contains essential information, so it is imperative to complete it correctly:
Gender – Date of birth
Height: you can enter your height in cm or inches
Nationalities: add all your nationalities (if you have more than one)
Main position/Other position: choose well your playing positions, because it is a very important search criteria for coaches!
Status: this is your qualification status: JFL French, Bosman , Cotonou etc… You can also specify here if you are Non-Mutated or other status. This field is free to let you put down what you think is important.
DISPONIBILITIES / RESEARCH

Disponibility per season : Choose for the current and (if it's allowed) next season the statement that best suits your current situation.
ATTENTION : if you are available, remember to update this info every 15 to 30 days, if not you will no longer appear to coaches looking for available players.
AGENTS

If you have one (or more) agent(s), you can select him/her (them) from this list. This list is composed only of FFBB or FIBA licensed agents.
You can't find your agent ❓ Contact us via email or on our social networks, so we can add him/her.
PROJECT & SEARCH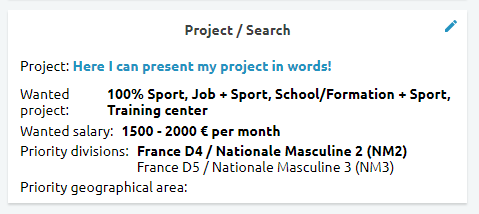 Wanted project: You can tel what kind of project are you interested in : 100% Sport, Job + Sport, etc. Some clubs may offer jobs or educational opportunities in addition to basketball. If you are interested in this kind of project, check it!

Desired monthly income: Sportiw is aimed at players of all levels, so specify the remuneration you expect from basketball. You can choose a maximum of 2 consecutive ranges.
⚠ WARNING : Clubs will use this filter to remove profiles, so be realistic to avoid the risk of not appearing in searches for clubs that match you.
Example : if you are a semi-pro player, don't put a salary of €5,000 per month, as semi-pro clubs will exclude players from this range.
Priority divisions : Choose your priority championships according to your level!
Priority geographical area : Choose the priority geographical areas in which you could play. You can choose countries, continents, regions, etc.

Project details : Here you can describe your project in your own words!
VIDÉOS
At the moment Sportiw only accepts YouTube videos.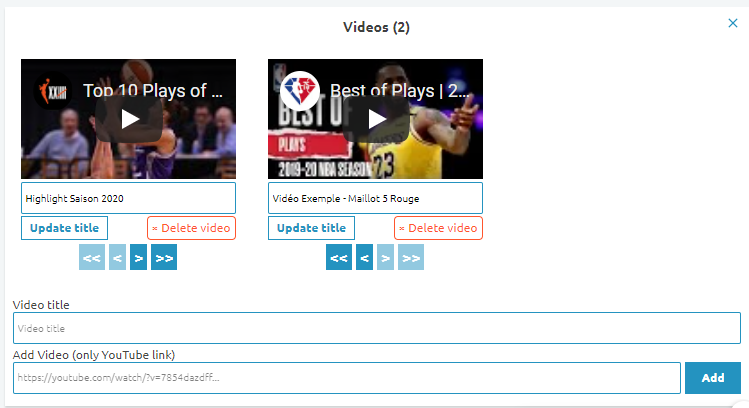 Write a title, add the link and you're done! If you add several videos, you will have the possibility to organize them in the order you want.
🚩 NOTE : We advise you to put a highlight (short video with cut actions) but also 2-3 full games of the season. This is what is often requested by coaches. For full games, remember to specify your jersey number and colour.
To help you : here is a 5 pour réussir son highlight ✅ & here a tutorial to teach you how to create your highlight easily and for free! 💪

If you don't have video of your games, put training sessions or a video presentation.
ABOUT THE PLAYER


In this section, you have to introduce yourself, it's a bit like your "cover letter". Say everything you can't see through the stats: your assets, your attitude, your ambition etc…
RECOMMENDATIONS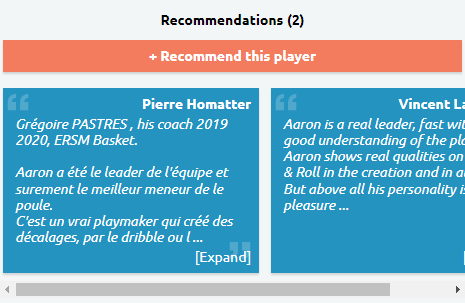 Ask for recommendations!
This will give your resume more weight, especially if it comes from coaches or teammates known by the clubs that will look at your profile.
CAREER
Remember to create a block for each season of your career! (the last 3 seasons at least)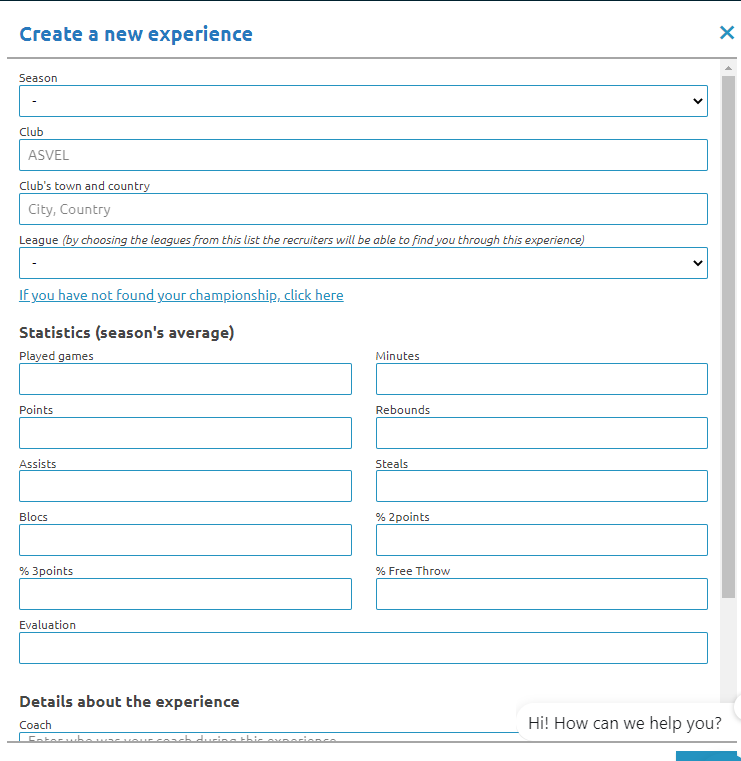 Season: choose the season
Club : write down the name of the club
Country & City : you can specify the city
League : use the drop-down list to choose the league as much as possible, as this will allow scouts to identify you by your background. If the league is not listed, enter it manually in the designated area.
Statistiques : write down all the stats that you know (these are averages for the season). Be careful, don't write anything down! The coaches will check this information and therefore you will be badly seen and probably not selected!
Coach : Specify the name of your coach(es) so that recruiters can contact them if they need more information.
Comment : add a text about this experience. Explain in your own words how the season went, the highlights, etc…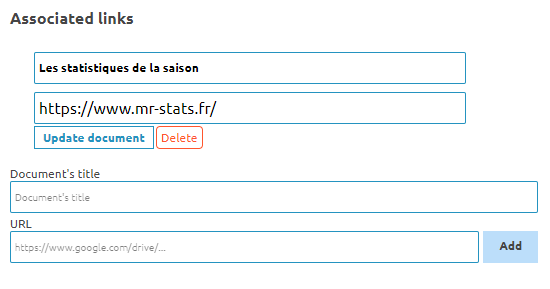 NOTE : after adding the experience, you will be able to add links to web pages of stats, press articles etc. related to this experience.
AWARDS/ACHIEVMENTS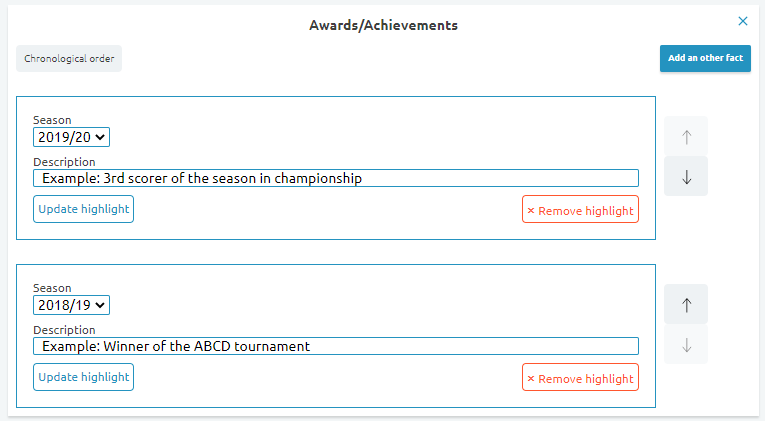 In this section, you can write down all the elements that you think are important to add to your career: winning a tournament, a title, a cup, a national or regional team selection, participation in a camp, detection, etc… anything that can complement your experience.

Also, you can add individual awards, for example, if you were "best scorer", "3rd rebounder", "5th setter", etc…

You can order them in chronological order or choose the order manually.
SPORTS INFORMATIONS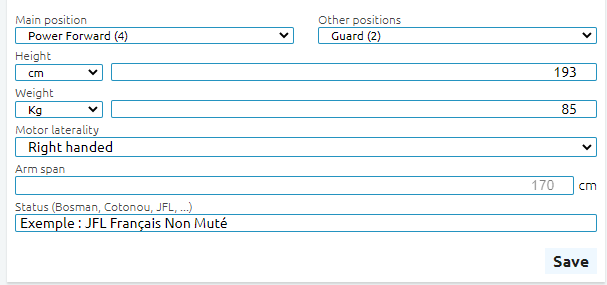 Complete here the missing sportive information: strong hand, weight, wingspan, etc…
GENERAL INFO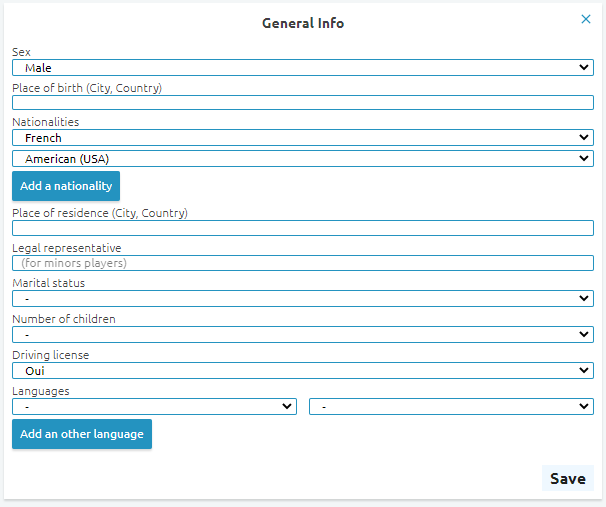 If you think it is relevant to your promotion, you can add personal informations, such as family situation,spoken languages, driving licence, etc… They are not mandatory.
You can also visit the 'Sample Player' profile for inspiration: https://sportiw.com/athletes/Exemple.Joueur/1263
CONTACT INFORMATION

Go on "my personal data" on the left menu
& add in "contact" your contact details so that coaches – clubs – agents can reach you.

QUESTIONS ?
If you have any questions, or need help, don't hesitate to contact us on social networks, by phone, or by email!
Email : contact@sportiw.com
Facebook : https://www.facebook.com/Sportiw/
Instagram : https://www.instagram.com/sportiw_insta/
Téléphone : +33603651177