As every year, the end of the NBA season sees different awards being given. Among them, the innovation award for the most innovative franchise of the season. And this year, it is the Washington Wizards who won this award! Let's find out why!
A bookmaker in the "Capital One Arena"
It all started last summer when the bookmaker "William Hill US" wanted to offer its fans a unique and novel experience. That's when the idea came up to convert the "Capital One Arena", home of the Washington Wizards, into a live venue where fans can bet instantly. Never before seen in the world of sports!
The results of this innovation were immediately very successful: 3,800 daily bets and $12.2M in wagers for the month of September 2021, for example. After realizing the magnitude of the project and realizing that the demand from the fans was increasing, the concept was extended permanently, over 365 days.
The "Capital one Arena" which can host up to 200 events (sports matches or concerts) has been remodeled to make each night "special" for local and foreign fans.
The Fan Experience at the heart of the issues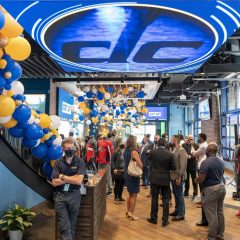 Visitors have access to a catering service, the broadcasting of various sports events, and a dedicated sports betting area with 22 machines and kiosks available for betting. The space also has two VIP areas and a reception area for events.
After each game, fans can watch other sporting events broadcast on the 24 LED screens set up by the brand, and the giant screen installed on the floor. In partnership with FTX, the franchise was also able to run a contest that gave away Bitcoins to selected fans in exchange for a presentation by FTX on the venue's television networks.
This concept has created a real living space for bettors and fans alike, setting a new goal for William Hill: to welcome one million visitors per year!