The Basketball Africa League (BAL) is back for a third edition in 2023! Became an essential event for African basketball, the BAL shall offer us a new season with suspense! Sportiw tells you all about this event…
The Basketball Africa League, 3rd edition!
The BAL is the result of a project led by the International Basketball Federation (FIBA) and the National Basketball Association (NBA). Both have partnered to create this championship, which brings together 12 African teams. The BAL promotes basketball in Africa and offers local players the opportunity to shine on the continental pro scene.
Africa Basketball League 2023 schedule
This year, the Sahara Conference will compete at the Dakar Arena in Senegal, with 15 games from March 11 to 21, 2023. Then, the Nile Conference will take over from April 26 to May 6, 2023 in Cairo, Egypt. The top four teams from each conference will then compete in the play-offs which will take place from May 21 to 27, 2023 in Kigali, the capital of Rwanda.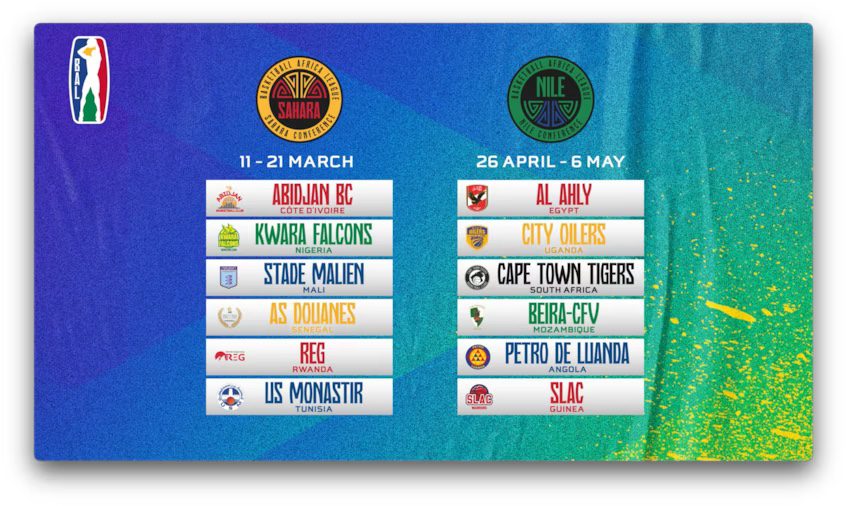 The tournament will host 12 teams from all over Africa, including US Monastir (Tunisia) who will be part of the Sahara Conference. This season promises to be exciting with teams like Abidjan BC (Ivory Coast), Kwara Falcons (Nigeria), Stade Malien (Mali), AS Douanes (Senegal) and Rwanda Energy Group (Rwanda).
The Nile Conference will be equally competitive with teams like Al Ahly (Egypt), City Oilers (Uganda), Cape Town Tigers (South Africa), Beira CVF (Mozambique), Clube Atlético Petroleos de Luanda (Angola) and Seydou Legacy Athlétique Club (Guinea).
BAL President Amadou Gallo Fall said, "There is incredible forward momentum for the third season of BAL, and each of the 12 teams has fought hard to earn their spot through intense competition. We look forward to delivering world-class basketball and entertainment to our passionate fans in Africa and around the world."
👉 If you want to see the best of African basketball in action, go to https://bal.nba.com and purchase your tickets. 
The BAL, an exciting championship
FIBA Africa President and BAL Board Chairman Anibal Manave is excited about the third edition: "We are excited to roll out what promises to be another outstanding BAL season. Judging by the quality of the teams that qualified in the "Road to the BAL" tournaments that ended in November last year, we are confident that fans and viewers will be treated to top-notch basketball that reflects the caliber of talent we have on the continent."
The "BAL Elevate" program…
This year, the BAL Elevate program will allow an NBA Academy Africa prospect to join a BAL team for the second consecutive year. BAL Elevate is a unique opportunity for young African talent to showcase themselves on the world stage and help their team win the BAL 2023 Championship.