In a recent interview with Chukwuma, a basketball player hailing from Nigeria, we had the privilege of discovering his remarkable journey from high school to college in the United States and his upcoming signing with the French basketball club, AL Césaire Levillain . Chukwuma's story serves as an inspiring tale for young players willing to play abroad.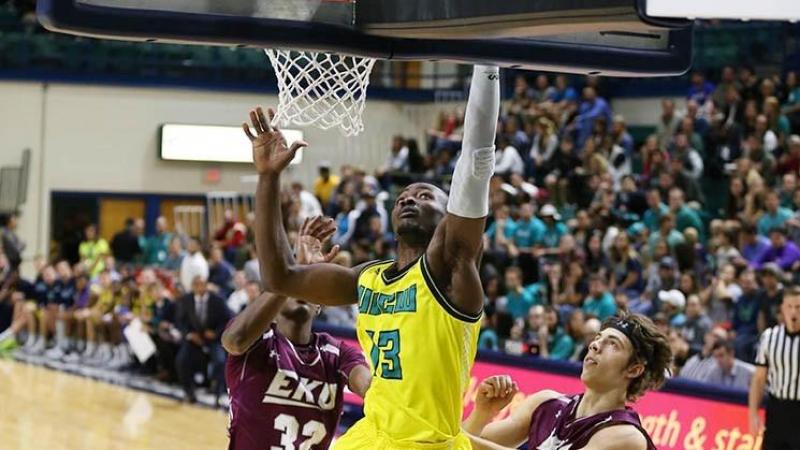 You are from Nigeria and you went to the US to play basketball how was the transition ?
The transition was a challenging period for me. It felt like everything was a shock—culture, play style, weather, you name it. I often had to pinch myself on the plane to confirm it wasn't a dream. Coming from Nigeria, where the US is seen as the land of opportunities, it was a dream come true. However, the transition was tough. I felt stressed during my first year, being away from my family, adjusting to a whole new environment, and interacting with people with different customs. It was a learning process, trying to understand and adapt to a new life. I experienced moments of loneliness and even cried at times. But with the support of my foster families, coaches, and my mother's encouraging words, I found the strength to persevere. My mom told me a very important thing "If it was easy a lot of people will be doing it" because in the pursue of happiness and success there is suffering, and that's why we have to persevere. 
After high school you played in the NCAA how did you get there?
What people often overlook is that playing in the NCAA requires a strong academic background. It's not just about basketball skills, academics play a crucial role. Coaches and advisors prioritize a player's academic performance, especially during high school when they consider recruiting you. Your grades are an important factor in getting noticed and recruited. So, my advice to young players is to understand the significance of academics. It's not only a backup plan for the future but also an essential aspect of your overall development as an athlete.
How did it prepared you to play professional basketball?
I underwent intense training and participated in challenging drills to prepare for the professional level. I was trained to be physically strong and mentally prepared. I have showcased my unique playing style and abilities while playing for the Owensboro Thoroughbreds. Coaches recognized my skills and often put 2-3 players on me, double-teaming me to limit my scoring. My coach, Brad, believed in me and provided valuable guidance on what works and what doesn't. Under his mentorship, I improved significantly. In college, before and after practice, with some of my teammates and I would lift weights, do workouts, stretches, and shooting drills. This routine not only helped me enhance my skills but also fostered camaraderie among teammates. Basketball is more than just a sport to me; it's a way of life and a cultural phenomenon. To truly understand and appreciate it, you have to immerse yourself in it.
In 2018 you participated Global Basketball Summer League tournament what did it taught you?
It was an incredible experience for me. Being among such talent was a true blessing and it motivated me to work even harder to perfect my craft. It made me realize that there's not much difference between those successful players and myself. We all have the same mindset and determination to succeed. The Summer League experience pushed me to advance my game and constantly seek ways to improve. I have personally witnessed how excessive eagerness can ruin someone's career. I've seen players who had impressive resumes from playing overseas or participating in G-League events, yet they ultimately failed to make an impact. On the other hand, I've observed underdogs, who were relatively unknown, secure contracts and opportunities while surpassing those who had more recognition. Interestingly, I happened to be one of those underdogs. I had the chance to engage in close workouts with NBA teams and many talented players. It was an amazing experience for me and a testament to the value of hard work and perseverance in achieving success
What advice would you give young players aspiring to play abroad?
My advice would be to never forget where you came from. It's easy to get comfortable in a new environment, but it's essential to remain grounded. I made that mistake and had to realign myself later. Embrace difficult times because as African players traveling to different countries, we face unique challenges. Recognize the opportunities you've been given and avoid falling into negative influences or engaging in activities that may hinder your progress. Surround yourself with the right people and focus on your sport. Think big and strive to become the best version of yourself. Remember that you're not just representing yourself but also your community. 
What are the differences you noticed between basketball in the USA and Nigeria?
The basketball styles in the USA and Nigeria have distinct differences. The US is often considered the pinnacle of basketball excellence, but what some young players fail to realize is the importance of hard work and dedication. They tend to focus solely on emulating the flashy moves of their favorite players without putting in the necessary work. In Nigeria, we play FIBA-style basketball, which emphasizes physicality and the need to fight for the ball. It's important for young players to understand that the skills and work ethic of successful players are what set them apart, not just the highlight plays. Strive to be the best version of yourself and embrace the hard work required to succeed.
Why did you decide to go to France for your next season?
I wouldn't say I decided to go to France; rather, the opportunity presented itself. The coach from Césaire saw something in me, and with the help of Sportiw and my agent, they reached out to me. It all started with a Facebook message that led to further communication. I'm grateful for this opportunity to showcase my skills and represent my country. I also see it as a chance to make a positive impact, not only on the court but also within my community. Going back to Nigeria after all these years and witnessing the challenges people face has fueled my hunger to succeed and contribute positively to my country. I haven't had the chance to meet the team in person yet, but I've been introduced to them. The coach has been incredibly supportive and helpful. To be honest, he is the best coach/staff member I have ever dealt with. He takes the time to talk to me and explain the things I need to do. Considering I've never been to France before, his daily involvement and guidance mean a lot to me. He goes above and beyond, constantly checking on my progress. I am truly excited to meet the team face-to-face. Currently, I am going through the visa process, and once it's completed, we can move forward with great anticipation.
Do you have any goals for your upcoming season in France?
My primary goal is to be the best version of myself both on and off the court. I want to continuously improve my skills and contribute to the success of my team. By pushing myself and elevating my game, I aim to help the team achieve its goals and make a positive impact. It's about personal growth as well as fostering a winning mentality within the team.
How has Sportiw helped you in your career?
Sportiw has been an invaluable support throughout my career. They have been following my journey since my early days, and I truly appreciate their constant communication and guidance. They have connected me with the right people and assisted me at every step of the way. Sportiw goes above and beyond to ensure that I have the necessary support and resources to succeed. Their commitment to my career development is unmatched, and I'm grateful for their continued involvement and care.
Thanks to Chukwuma Ogbodo for his time and his relevant answers!
Find other interviews related to the world of basketball on our blog.