In the next season, Quentin Geraud will continue his handball career with the Villeneuve Loubet Handball club, which plays in Nationale 2. He tells us how Sportiw helped him…
Hello Quentin, can you introduce yourself and tell us briefly about your background?
Hello, my name is Quentin Geraud, I am 21 years old and I am currently a business school student. I started handball at the age of 6 in the Parisian suburbs at Neuilly Plaisance Sport. Then, my family and I moved to Lille, and so, I joined the Marcq Handball club. While I was there, I was selected to represent the North at the inter-committees. Then, at the age of 16, I moved again and I joined the Strasbourg Eurométropole Alsace Handball club. Finally, due to my admission to a Master's degree at Skema Business School in Sophia Antipolis, I made the decision to join the Villeneuve Loubet Handball club.
How were your 5 seasons in Strasbourg?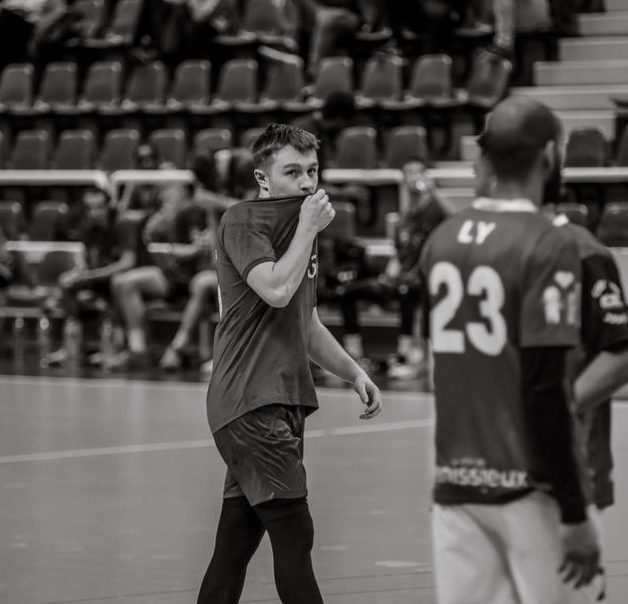 These five seasons spent in Strasbourg were extremely rewarding and decisive for my development as a player and as an individual. They allowed me to discover the world of the high level, an experience I had never known before. From my first season, I had the opportunity to participate in the French championships under 18 years old, which was a real revelation for me.
Over time, I successively joined the team of Nationale 3 and then Nationale 2 of the club, which reinforced my progress. This season, thanks to my constant efforts and performance, I had the privilege of temporarily joining the professional team of Strasbourg Eurométropole Handball, which plays in the Proligue. I even had the opportunity to participate in a match against Massy last December, which was an incredible experience. These five seasons have played a crucial role in my evolution both on and off the field. They allowed me to push my limits and develop my level of play well beyond my expectations
Next season you will play at Villeneuve Loubet Handball, can you tell us how your signature went?
It all started at the beginning of the year when I started exploring the different business schools that I could integrate into a Master's degree next school year. Since I had no visibility on my final destination until mid-June, I decided to update my Sportiw account, in the hope of being contacted by interested clubs.
That's what happened, Villeneuve Loubet's coach contacted me a few months ago via the platform. The team's project was of great interest to me and after being admitted to Skema, it seemed quite natural to me to join this club in order to continue my handball practice in parallel with my studies.
How did Sportiw help you?
The Sportiw platform helped me greatly in my search for a club. Thanks to Sportiw, I was able to update my information and clearly indicate that I was looking for a club for the next season. It is precisely thanks to this update that Villeneuve Loubet contacted me.
Do you have any advice for players registered on Sportiw and looking for an opportunity?
I strongly recommend that all users registered on Sportiw do not hesitate to use it and keep their profile updated regularly. Many teams or players are looking for projects and Sportiw allows you to know it and stay informed of the opportunities available. By continuing its development, Sportiw will allow many players and clubs to find an answer to each request.
I wish you all a good season!
Thank you Quentin for this testimony and good luck for the procaine season!
To discover other interviews related to the world of handball, it's this way!