To help you manage your club in an optimal way, we have selected 6 solutions that could be useful to you!
Whether it is to save time in your organization, better manage your volunteers, facilitate your recruitment, better communicate with your members or promote interaction within your club:
1. Heja, to communicate within clubs and teams.
2. Clupik, the 360° management for the needs of clubs (store, communication, etc.).
3. Springly, for the complete management of its club in an automated way.
4. SportEasy, to manage your teams in a simplified way.
5. MyPlay, to facilitate game analysis via video.
6. Sportiw, to facilitate sports recruitment.
1. HEJA, the communication application for clubs :
Heja is an application that offers a simple and modern way to communicate within your sports team. The application keeps everyone informed about matches, training sessions, events, through a clear team calendar, important messages, automatic reminders and group SMS including video and photo sharing.
For Heja, a team is not only players and coaches. It is also families, volunteers, friends and supporters! Organising and communicating easily with each member is therefore a major issue in all sports clubs
Heja offers many features to facilitate not only the work of coaches, but also that of parents or players:
👉 Schedule your season: matches and trainings with automatic reminders
👉 Know the availability of your players: parents and players can let you know their presence at trainings and matches
👉 Send messages to your players.
👉 Manage several teams at the same time!
Heja is free to use for all team members, and does not carry any advertising. A paid version is also available and offers a more comprehensive service.
2. CLUPIK, a 360° solution:
Clupik is a solution for the transversal management of sports clubs, integrating in a single 360º tool all the needs of the club: administration and management, communication, competitions and online shop.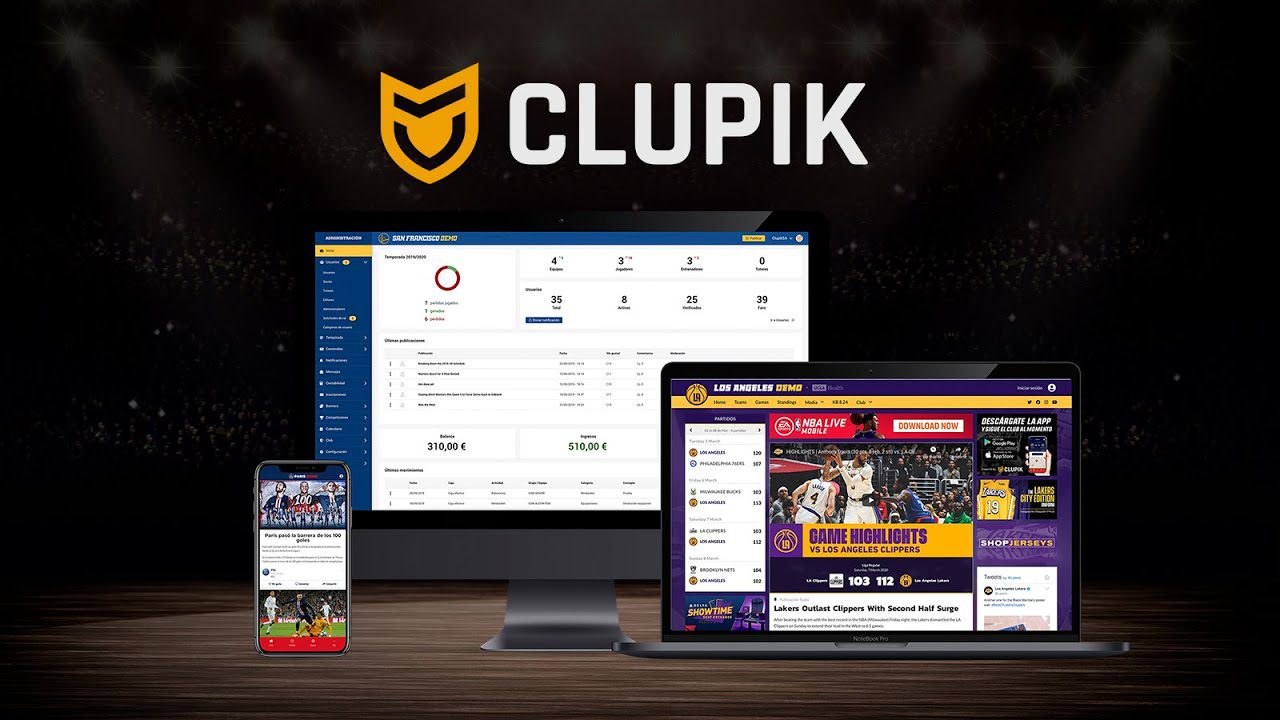 ⌚️Save time: make the most of your time, streamline processes by up to 80%.

Generate income: add new sources of income (online shop)
Clupik is aimed at sports clubs! Its goal? To facilitate the management of the club thanks to the implementation of a database of athletes, teams and groups in the club, the automation of publications, attendance registers, the possibility of broadcasting matches or competitions!
The application offers you a free trial, then depending on the number of teams you want to manage, offers a paid version adapted to your needs (between 35€ and 95€ per month).
More information on Sportiw !
3. SPRINGLY, recommended by the French Basketball Federation :
The aim of this solution is to offer clubs easy-to-use and automated tools, as well as dynamic support for their projects! 
Since 2014, Springly has already saved many hours of management for the clubs that use it! Its slogan ? "Your time is precious – spend it on what is important".
Simplicity, excellence and benevolence are the 3 values of Asso connect since its creation in 2014! Simplicity in use, excellence because clubs deserve the best of digital technology for their project and benevolence for quality exchanges, together!
Springly supports you in various fields:
Accounting and finance: easily keep the accounts of your association, even without accounting skills.
Collecting payments: Create your membership forms, donation forms, and event ticketing.
Communication and website : Emailing, blog, website : make your association known thanks to efficient online communication means.
Several formulas are proposed: a free formula including (the basic functionalities), as well as a paying formula more complete (24€/month) and professional (99€/month).
4. SportEasy, multiple features:
Sporteasy specialized in a dozen sports such as basketball, handball, soccer, rugby, field hockey, offers a multitude of features for the management of teams and amateur sports clubs in a hundred countries.
Launched in 2010 this app has received several awards: such as winner of the 2017 Strategic Sports Awards and winner of the startup category in 2017. It currently has 90,000 active teams and 7,000,000 events managed.
In particular, it offers users a calendar that allows them to organize events in the club and share them with the community. You can centralize the data of the members, and find their personal information, which can also be personalized. The statistics of the players are recorded, which allows to always improve the team and to keep track of their performance. Sporteasy is a time saver, especially with its automatic emailing.
Sporteasy offers several formulas. There is a free option that allows you to register your team with a limit of 30 players. A premium mode is also available for 5,75€ per month to register your team with an unlimited number of players. And to register a club the price is 3€ per year for each member with all the features available!
5. My Play, to facilitate the analysis of the game:
My play is mainly intended for coaches who are specialized in one of the three following sports: basetball, handball, and volleyball in order to facilitate game analysis!
The application has a system that detects the game and the position of the players on the field. It provides internal cameras, statistics, analysis, and live streaming of your games and trainings. Their goal is to provide clubs to facilitate the evaluation of the performance of each player! The platform is also interactive for the coaches which allows them to control the editing capabilities.
You can also create your own highlights, using the clip feature that allows you to choose the best actions of your matches! So no need for a cameraman, the application will take care of the event!
My Play offers you several formulas:
MyPlaySingle : With MyPlay Single, you can multiply the cameras and thus the angles of view so that all your teams benefit from it for 700 € per year !
MyPlayTrack: for a price of 2 400€ per year benefit from the main camera for the capture of the sport event and the second one for the scoreboard. it automatically follows the game, creating a visual experience similar to the one of the TV broadcast.
MyPlayVOLLEY : This specialized solution for Volleyball includes 3 cameras: 1 for the wide angle capture (TV view) and 2 others for the capture of the back of each half-court in order to offer you the best possible view for the technical and tactical analysis of your matches and trainings for 2400€ per year.
6. Sportiw, to facilitate your recruitment:
Sportiw is THE platform to gather the sports community. With more than 35,000 users, the goal is to help teams, coaches, players, agents and other sports professionals meet to create great sports stories!
Launched in 2019, Sportiw was born from the idea of helping clubs and athletes in their "sports life". Whether you are professional, semi-professional or amateur sportsmen, Sportiw's mission is to accompany you, advise you and structure your activity. Clubs, coaches, players, agents… Sportiw makes your recruitment easier by connecting you with all the actors on a single platform!
As a coach/member of a club, Sportiw proposes you 2 options:
– A "Premium Club" offer: For 200€ per year + VAT, have access to 3 individual premium accounts within your club. With these accounts, you will be able to see and contact all the players of the platform, to publish offers visible by all the players, to filter and annotate the players by level or to benefit from a promotion on the social networks!
– A "Premium Coach" offer: By choosing this offer, you will benefit from the same features/services as those mentioned for the "Premium Club" but only one account will have access to them. The price is 120€/year or 30€ for one month.